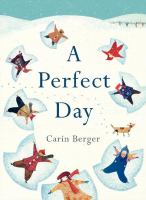 School Library Journal
(c) Copyright Library Journals LLC, a wholly owned subsidiary of Media Source, Inc. No redistribution permitted.

PreS-Gr 2-Berger is captivated by the look of the landscape after it has snowed and the interest that lines, shapes, textures, and light add to the view. Her cut-paper compositions build snow-covered hills with ledger-book paper that has been brushed with paint; the pale blue script and lines show through, adding depth and mystery. The text floats down with the flakes in the opening spread. On the following pages, tall bare trees and, later, glowing lampposts add a vertical dimension to the horizontal world. Children emerge singly and in small groups. First the focus is on footprints and the lines from skis and skates. Then it is on the fun of throwing snowballs, making snowmen and forts, and sledding. The climax is a spread of 18 snow angels, after which the youngsters proceed to their respective homes, which are spread out on the hillsides as in a Currier and Ives scene. Berger's brief narrative describes the children's actions; it is the pictures that convey the wonder. A quiet celebration of a phenomenon that transforms everything it touches.-Wendy Lukehart, Washington DC Public Library (c) Copyright 2012. Library Journals LLC, a wholly owned subsidiary of Media Source, Inc. No redistribution permitted.
---
Book list
From Booklist, Copyright © American Library Association. Used with permission.

The perfect day is a snow day, and Berger, with very special art, portrays it as perfect indeed. Using a delicate collage made from old paper ephemera catalogs, notebooks, letters, and newspaper and book pages the look is distinctive. As for the story, well, it's more of a mood. A group of children, almost puppetlike in appearance, run through the snow: Emma is the first to make tracks, Leo skies, Sasha and Max throw snowballs at Oscar. Snowmen are made; snow forts are built. Frozen ice is ready for skating. Then all the children make angels in the snow. Throughout, the focal point is the hilly whiteness. Kids, and even a towering snowman, decorate rather than become the center of attention. Only the double-page spread of 18 diminutive children waving arms and legs into angels is enough to blank out the snow. Readers will love looking at the pictures again and again; there will always be something new to notice including the faint writing on the snow, courtesy of its former provenance.--Cooper, Ilene Copyright 2010 Booklist
---
Publishers Weekly
(c) Copyright PWxyz, LLC. All rights reserved

"The whole world was white," writes Berger in this hushed vision of a snowy day. Berger's collages, however, are no simple "white": her hilly snowscapes are crafted from lined paper, handwritten ledgers, and typewritten pages in creamy off-whites and pale yellows. Berger follows the activities of various children with birdlike faces, layered in winter plaids, before they "go home to warm hugs and dry clothes and steaming hot chocolate." The pared-down prose both suggests the quiet stillness of a winter afternoon and lends itself to thoughtful consideration of each spread. Lovely. Ages 4-8. Agent: Brenda Bowen, Sanford J. Greenburger Associates. (Nov.) (c) Copyright PWxyz, LLC. All rights reserved.