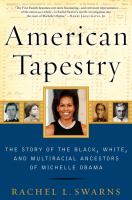 Library Journal
(c) Copyright Library Journals LLC, a wholly owned subsidiary of Media Source, Inc. No redistribution permitted.

New York Times correspondent Swarns outlines the fascinating journeys taken by various ancestors of First Lady Michelle Obama-the people who, across the generations, helped make her who she is today. The author not only presents these accounts but also interleaves them with the story of how she uncovered this information, which began with research for an article she wrote on the subject for the Times. Swarns discovered an ancestor, a slave named Melvinia who had two mixed-race sons. She identifies the descendants, including Michelle Obama and distant relatives who had no idea they were related to the nation's First Lady. Of course, records, no matter the skill in finding them, can tell only so much, and Swarns is very careful to distinguish the known facts from possible explanatory or additional details (e.g., the possible story behind Melvinia's mixed-race pregnancies or likely reasons why a post-Civil War black child might not have been sent to school). VERDICT The result is an engrossing book that demonstrates a lot of research, dedication, and care. Recommended to all readers interested in biographies that employ genealogical research, as well as readers in African American heritage and history. [See Prepub Alert, 12/16/11.]-Sonnet Ireland, Univ. of New Orleans Lib. (c) Copyright 2012. Library Journals LLC, a wholly owned subsidiary of Media Source, Inc. No redistribution permitted.
---
Publishers Weekly
(c) Copyright PWxyz, LLC. All rights reserved

In this layered, scrupulously researched, and wrenching chronicle, New York Times reporter Swarns takes readers to South Carolina rice plantations, small Georgia farms, and the industrial magnets of Birmingham and Chicago as she weaves robust portraits of first lady Michelle Obama's ancestors. At the core of this family saga is slave girl Melvinia, mother of Dolphus Shields, the first lady's maternal great-great-grandfather. Melvinia never disclosed the paternity of either of her mixed-race sons, and Swarns's research runs up against the inherently hidden aspect of sex across the color line in the slave-holding South. Generations later, the former Michelle Robinson's family remained unclear on the details of her ancestry-a subject rarely discussed since the past was obscured by a present-day struggle, and "the experience of bondage was so shameful and painful that they rarely spoke of it." Though Swarns makes little of Obama's reaction to these revelations, she shows that the branches of the first lady's family tree are populated by admirable and fallible people propelled by the currents of race and history, reflecting a core aspect of the African-American experience. Agent: Philippa Brophy, Sterling Lord Literistic. (June) (c) Copyright PWxyz, LLC. All rights reserved.
---
Book list
From Booklist, Copyright © American Library Association. Used with permission.

*Starred Review* The threads of Michelle Obama's genealogy are as complex and tangled as those of most African Americans, leading through slavery, Emancipation, and the Great Migration. New York Times reporter Swarns traces the threads, some not previously known to Michelle Obama herself, to ties to black, white, Native American, and multiracial family members. Drawing on two years of research, including interviews with two elderly women one black, the other white Swarns presents the complicated story of race in the U.S. through the prism of one family's history. Some of Obama's forebears pushed against limitations in the South, moving on to chafe against restrictions they found in the North, while others stayed in the South, making peace with a desire to stay with family above all else. A central figure is Melvinia, a young slave girl who gave birth to mixed-race children, raising questions about her relations with her master and his sons. Swarns details the individual choices and challenges that faced the family as they were part of the great sweep of history and the pride or shame that caused some to pass along stories of achievement and keep secrets of their lives as slaves. A completely fascinating look at the complex ancestry of one family, African Americans, and all Americans.--Bush, Vanessa Copyright 2010 Booklist