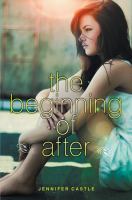 School Library Journal
(c) Copyright Library Journals LLC, a wholly owned subsidiary of Media Source, Inc. No redistribution permitted.

Gr 7-10-Laurel is home doing her French homework while her parents and brother go out for dessert with the neighbors. A car accident kills everyone except the driver, her neighbor. Laurel's grieving is complicated by not knowing if the accident was the driver's fault (he had been drinking), and by a strained and complicated relationship with David, his son, who was not in the car either. With his mother dead and his father in a coma, David runs away and Laurel is left caring for his dog. Her grandmother moves in, and the story follows Laurel as she makes her way through senior year. Castle has created a strong and independent girl. Laurel struggles through a crisis even as she deals with more-typical teen problems. Two boys are love interests, but they are never Laurel's sole focus. She has her art; her college applications; a new job; and, most of all, her grief to deal with. Castle gives her a solid support system-a loving grandmother; an understanding guidance counselor; a sweet best friend; and a stereotypical, but well-intentioned, therapist. Perhaps all this support is why she copes so well. In fact, Laurel copes almost unbelievably well, breaking down and crying only a time or two throughout the entire 400 pages. The pace is slow, but the detailed writing and smart, realistically cool characters will be appealing to many girls. Offer this to teens who are waiting for the next Sarah Dessen book.-Geri Diorio, Ridgefield Library, CT (c) Copyright 2011. Library Journals LLC, a wholly owned subsidiary of Media Source, Inc. No redistribution permitted.
---
Publishers Weekly
(c) Copyright PWxyz, LLC. All rights reserved

After Gayle Forman's acclaimed If I Stay, books tackling the same topic-a girl surviving the death of her parents and brother in a car crash-face inevitable comparisons. And although there's certainly room for more stories with this premise, Castle's debut, while affecting, comes up short. Sixteen-year-old Laurel reluctantly goes to Passover dinner with her family and their neighbors, the Kaufmans, whose son, David, is an estranged childhood friend. After dinner, everyone except Laurel and David goes out for ice cream; only David's father survives the subsequent accident, and he is left in a coma. While Laurel's journey to recovery and her blossoming romance with David are compelling reasons to keep reading, the story never delivers the raw emotional truths expected. Laurel's reactions to the accident get lost among other mini-dramas that pop up along the way, and the blunt descriptions of her feelings (as well as how early in the book the accident takes place, before the characters are really established) render her grief flat and generic. Too little "before" makes the "after" less wrenching. Ages 12-up. (Sept.) (c) Copyright PWxyz, LLC. All rights reserved.
---
Book list
From Booklist, Copyright © American Library Association. Used with permission.

All it takes is a moment and a reckless driver, and Laurel's world is changed forever: her parents and her brother are dead, and suddenly the SAT and college apps seem irrelevant. Her BFF, Meg, tries to support her but also needs to look forward toward their senior year, so Laurel feels alone in her grief until romance comes unbidden from the most unlikely source the driver's son, David and nothing is cut and dried. This first novel takes some of its emotional clues from Gayle Forman's breakout novel If I Stay (2009) and will be well received by Sarah Dessen fans. Laurel's grieving process is believable and will resonate with all who have lost someone they love. The subplot of part-time job in an animal clinic and its four-legged personalities is an unusual mood-lifter that works. While some of the plot devices seem almost too convenient, most readers will gladly overlook them while they cheer for Laurel to find a way forward.--Moore, Melissa Copyright 2010 Booklist