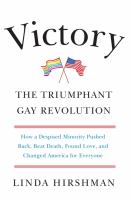 Library Journal
(c) Copyright Library Journals LLC, a wholly owned subsidiary of Media Source, Inc. No redistribution permitted.

Former labor lawyer and professor of philosophy and women's studies Hirshman (Get to Work: A Manifesto for Women of the World) has undertaken the difficult task of chronicling the U.S. gay rights struggle from 1920 to the present day. The result is a resounding success, both readable and informative. With an exhaustive list of sources, including interviews she conducted with major figures in the movement, Hirshman tells the stories of the individuals, groups, and institutions that battled the societal and legal view of homosexuals as insane, sinful, criminal, and subversive and that sought to advance their rights to become full participants in a democratic society. She covers the efforts of Senator Joseph McCarthy, the House Committee on Un-American Activities (HUAC), and the Religious Right to demonize homosexuals as well as internal power struggles between incrementalists and activists and the sometimes strained alliance of gay men and lesbians. Hirshman also does an admirable job of recounting the humble beginnings of gay rights institutions such as the Human Rights Campaign and Lambda Legal. -VERDICT An astonishing work that seamlessly weaves together multiple stories into one authoritative volume. Highly recommended for political scientists, civil rights activists, and students of LGBT history.-Mark Manivong, Lib. of Congress, Washington, DC (c) Copyright 2012. Library Journals LLC, a wholly owned subsidiary of Media Source, Inc. No redistribution permitted.
---
Publishers Weekly
(c) Copyright PWxyz, LLC. All rights reserved

This exuberant history of arguably the final and most difficult civil rights struggle relates, in surprisingly upbeat fashion, the fight "to slowly bend the arc of history toward justice" for gay men and women. The narrative begins in 1920 with gay migration to the cities, and the communities that developed-the "culture of socially acceptable criminality" of Prohibition and speakeasies gave homosexuals "a sort of respectability by association." It continues with the transformation of the "homophile" Mattachine Society from Communist revolutionaries to attempts at conformity and the founding of the lesbian Daughters of Bilitis; the Stonewall uprising and the sexually liberated '60s; the AIDS crisis and ACT UP; and the ongoing fight for military and marriage equality, each accompanied by incremental legal advances and its own backlash: the end of Prohibition, McCarthy and HUAC, the rise of Christian fundamentalism. Those who lived through some or all of these events may think that political columnist Hirshman's (Hard Bargains: The Politics of Sex) enthusiasm minimizes the pain of past experience, and lesbians may feel relegated to a secondary presence, but the author's portrayal of this transformation of the meaning of "the core concepts of citizenship-morality, sanity, loyalty"-and how "as this most marginalized group of Americans fought for full inclusion in the social order, they didn't only change their world; they changed everyone's world"-is undeniably inspiring. Agent: David Kuhn, Kuhn Projects. (June) (c) Copyright PWxyz, LLC. All rights reserved.
---
Book list
From Booklist, Copyright © American Library Association. Used with permission.

Rocky reading for the first 80-plus pages, because of strange interjections and catchphrases, perplexing characterizations ( the Masons, another subversive group say what?), and muzzy descriptions (e.g., of the 1957 Supreme Court free-speech case, Roth v. United States), Victory thereafter becomes a sturdy popular history of the gay civil rights movement. A lawyer and student of social movements, Hirshman tells a story of legal change, powered by political activism, within the liberal state that the U.S. is that is, a polity in which laws shape social relations and in which a prime responsibility of government is to protect citizens from one another completely evenhandedly. She follows the development of the many organizations most fleeting (even when wildly successful, like ACT UP), some still growing (the Human Rights Campaign) that have fought for gays' ordinary civil rights, and she clearly presents the arguments that won those organizations' struggles for hate-crime laws, gays in the military, gay marriage, and, most consequentially, AIDS research and care. Though it ends stumbling again, a very worthwhile, refreshingly nonpolemical current-affairs item.--Olson, Ray Copyright 2010 Booklist
---
Choice
Copyright American Library Association, used with permission.

Hirshman's book fills a gap in civil rights and social movement history; while many books on African American civil rights and women's movements line the shelves, those on the history of the gay rights movement are few. But the author's tone is not particularly academic. She writes in a colloquial style that is engaging but leads her to gloss over important points that need more unpacking. Further, her claims, such as "the gay revolution started out from much the weakest position of any of the modern movements. Brilliantly led, endlessly resourceful, and stunningly creative, it came the furthest," might provoke interesting classroom discussion but suggest Hirshman's lack of historical objectivity and a dismissiveness of the extraordinarily long struggles of African Americans, though she explains that this is not her intent (page xvii). Lastly, the book minimizes historical context (perhaps necessary in such a long work) and lacks the sort of substantive, expository footnotes useful for scholars interested in more contextual or bibliographical information. Hirshman's work might pair well with Allan Berube's Coming Out under Fire (CH, Sep'90, 28-0505) and Lillian Faderman's Odd Girls and Twilight Lovers (1991), and would benefit from the context they provide. Best for casual readers, some undergraduates. Summing Up: Recommended. Public/general/undergraduate collections. J. L. Cote Saint Joseph College