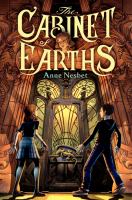 School Library Journal
(c) Copyright Library Journals LLC, a wholly owned subsidiary of Media Source, Inc. No redistribution permitted.

Gr 4-8-Twelve-year-old Maya Davidson; her five-year-old brother, James; and their parents have moved to Paris from California while her father works on a research fellowship. Maya's mother, who is recovering from cancer treatment, has always dreamed of living there, so Maya tries to be positive in spite of feeling extremely out of place. As the siblings begin to explore the city, Maya sees a salamander-shaped doorknob that seems to move, meets a strange man with dark glasses, and is introduced to an almost-invisible cousin named Louise. With the help of her new friend Valko, she begins to learn about her family's secret past and their role as caretakers of the mysterious Cabinet of Earths and its magical glass jars. When James disappears, Maya has to use what she has learned and the mysteries that surround her to save her brother, escape her family's dark legacy, and try to find a new beginning. Maya's story opens slowly and then unfolds more and more rapidly as readers join Maya, Louise, and Valko in combining the clues they gather into an understanding of what the Cabinet of Earths is and its power of time. Maya is a fully realized character, well aware of her social awkwardness compared to her charismatic younger brother, and readers will be rooting for her to find her strengths and save the day. This unique fantasy will catch its audience's attention and leave them thinking about time, families, and immortality.-Beth L. Meister, Milwaukee Jewish Day School, WI (c) Copyright 2012. Library Journals LLC, a wholly owned subsidiary of Media Source, Inc. No redistribution permitted.
---
Book list
From Booklist, Copyright © American Library Association. Used with permission.

When 13-year-old Maya's family relocates to Paris, she finds herself facing expected and unexpected troubles. Given her father's preoccupation with scientific study and her mother's difficult cancer recovery, Maya knows that looking after her precocious little brother, James, will largely fall to her. She does not anticipate, however, being pulled towards the strange Cabinet of Earths complete with an animate salamander handle which is calling for a new keeper. Furthermore, when the behavior of her preternaturally young cousin goes from suspicious to menacing, Maya must match wits to rescue James and protect her family. In her debut novel, Nesbet has crafted a carefully imagined, magical world one that is shrouded in mystery and keeps the reader engaged and guessing. As Maya puts all the pieces together, a fuller picture emerges; indeed, the more Maya understands and masters the various forces at play, the better the reader will appreciate her emotional growth. With imaginative alchemy, compelling action, and sensitive characterizations, this novel will undoubtedly win over fantasy fans.--Barthelmess, Thom Copyright 2010 Booklist
---
Publishers Weekly
(c) Copyright PWxyz, LLC. All rights reserved

Nesbet's auspicious debut novel plunges readers into the story of 13-year-old Maya and her five-year-old brother, James, who are descendants of two feuding families with expertise in science and magic. After the siblings' chemist father receives a fellowship, Maya and her family move from Cali-fornia to Paris, where she quickly becomes enmeshed in a mystery involving the disappearance of local children in decades past; "anbar," an alchemical substance with rejuvenating powers; and the strange and beautiful Cabinet of Earths that seems to call out to her. With her mother's health in decline, James the target of evil forces, and distant relatives coming out of the woodwork, Maya decides to answer the call of the cabinet, despite the dangers, to try to set things right. Blending elements of magic, science, and even horror with evocative prose and a confident narrative voice, Nesbet immerses readers in her contemporary Parisian setting. At its heart, this is a story about change, as Maya struggles to accept unwelcome developments while growing aware of the sinister extent to which some will go in the name of self-preservation. Ages 10-up. (Jan.) (c) Copyright PWxyz, LLC. All rights reserved.