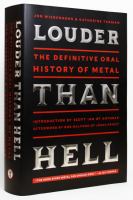 Publishers Weekly
(c) Copyright PWxyz, LLC. All rights reserved

Compiled from over 250 interviews conducted by the long-time music journalists Wiederhorn and Turman over the past 25 years, this work conveys the history of heavy metal through the words of the men and women who created it, played it, re-invented it, and continue to carry the torch for this much-loved and much-maligned subgenre of rock 'n' roll. Bookended by an introduction by Anthrax's Scott Ian and an afterword by Judas Priest's Rob Halford, metal's lifespan is broken up into chapters that tell the story of metal in chronological order, basically starting with Black Sabbath's formation in the late '60s to the death of Slipknot's Paul Gray in 2010. For those looking for all the classic touchstone moments of heavy metal, they are here, including Ronnie James Dio perfecting the metal "devil horns," Ozzy Osbourne biting the head off a bat, the debauchery of the L.A. glam scene, Kiss's Gene Simmons "over 4,600 liaisons," and Alice Cooper killing a chicken on stage. But the authors dig deeper into the other hard rock-related stories, like black metal death that included Norwegian Count Grishnackh murdering fellow countryman and musician Euronymous, and the Swedish frontman of the band Dissection Jon Nodtveidt "helping to kill" a gay man in 1997. While proponents of classic bands such as Iron Maiden or AC/DC may take issue with the inclusion of rap-rock band Limp Bizkit, alternative act Marilyn Manson, or industrial group Nine Inch Nails in a book about metal, the authors inclusiveness give this examination a weight that is just as heavy as the music. (Color photos not seen by PW.) (May) (c) Copyright PWxyz, LLC. All rights reserved.
---
Library Journal
(c) Copyright Library Journals LLC, a wholly owned subsidiary of Media Source, Inc. No redistribution permitted.

Here rock journalist Wiederhorn (senior writer, Revolver) and music writer and radio producer Turman paint a broad but limited picture of metal and its cultural significance. Rather than regurgitating the same old stories about metal forefathers Black Sabbath, Iron Maiden, and Metallica, Wiederhorn and Turman dedicate the bulk of their book's considerable girth to an examination of the genre's new heroes-Pantera, Lamb of God-along with subgenres-nu-metal, industrial metal-often ignored by metal's old guard. While this considerable collection of commentary on the genre's most famous characters has considerable merit as an exploration of the art form, it's diluted by an overload of repetitive, salacious stories of chemical abuse, sexual deviancy, and self-destruction. It's disappointing, because the book also dissects metal and all of its subgenres in a thoughtful, unbiased way not often found in cultural critiques of the music. Verdict The definitive metal oral history? No. But for readers into backstage gossip about feuding musicians, heroin overdoses, and groupie tales that would make Larry Flynt blush, this is a damn good read.-Rob Morast, Norfolk, VA (c) Copyright 2013. Library Journals LLC, a wholly owned subsidiary of Media Source, Inc. No redistribution permitted.