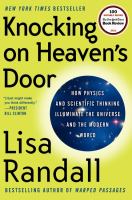 Library Journal
(c) Copyright Library Journals LLC, a wholly owned subsidiary of Media Source, Inc. No redistribution permitted.

In Randall's (physics, Harvard Univ.) second book written for a general audience (after Warped Passages), several major themes are woven together to depict the state of physics in the 21st century. Among other subjects, Randall covers the significance of scale in physics, describes the Large Hadron Collider (LHC, a gigantic particle accelerator that sprawls across the Swiss-French border), and discusses how experimental results from the LHC may guide the future development of physics and cosmology. In particular, there is hope the LHC will improve our knowledge of the entities known as "dark matter" and "dark energy," which together are believed to make up 96 percent of the universe. VERDICT Although these topics may seem abstruse, Randall has an accessible style and does not demand that her readers come armed with an advanced knowledge of mathematics or modern physics. This volume should appeal to experts and nonexperts alike intrigued by the latest scientific advances in our understanding of the cosmos. [See Prepub Alert, 3/14/11.]-Jack W. Weigel, Ann Arbor, MI (c) Copyright 2011. Library Journals LLC, a wholly owned subsidiary of Media Source, Inc. No redistribution permitted.
---
Book list
From Booklist, Copyright © American Library Association. Used with permission.

*Starred Review* To explain how science works, Randall analyzes the way two researchers at Bell Labs turned the annoying static coming through their radio telescope into a cosmic breakthrough. For in this piquant episode and others that Randall examines science advances by testing theoretical ingenuity against technologically acquired data. Readers gain some historical perspective on this process by revisiting Galileo, who used the telescope to verify Copernican thinking about the heavens and devised an early microscope to assess new ideas about the structural variation of bones. Randall indeed credits Galileo with having recognized the critical importance of scale in shaping fruitful scientific inquiries. And she anticipates acute challenges for twenty-first-century scientists pursuing science at scales both astonishingly large and incomprehensibly small. For data coming from the new Planck and Herschel satellites and from Europe's powerful new Large Hadron Collider will soon compel scientists to look anew at theoretical conjectures about the atom and the universe (or multiverse). As someone who helped forge some of these conjectures, Randall offers an insider's perspective into this cutting-edge science. Yet she illuminates that science with lucid language, laced with references to popular culture, political controversy, and even comic-strip art. The general reader's indispensable passport to the frontiers of science.--Christensen, Bryc. Copyright 2010 Booklist
---
Publishers Weekly
(c) Copyright PWxyz, LLC. All rights reserved

Dispelling the idea that science is based on unchanging rules, Harvard physicist Randall (Warped Passages) offers an insider's view of modern physics, a vital, continually "evolving body of knowledge" in which previous ideas are always open to change-or even disposal, when researchers discover a theory which better fits observational evidence. While acknowledging art and religion as different ways to search for truth, Randall celebrates how science "seeks objective and verifiable truth" through careful observation and measurement. As our technology allows our view of the world to expand, the range of things we can observe also expands, from what we can see with our naked eye to the world of subatomic particles and forces studied by particle physicists. The Large Hadron Collider is the biggest, most complex tool yet built to parse this tiny world to answer some of physics' biggest questions: the source of mass and gravity, the secrets behind dark matter and dark energy, and the underlying structure of the universe. Randall's witty, accessible discussion reveals the effort and wonder at hand as scientists strive to learn who we are and where we came from. 75 b&w illus. (Sept.) (c) Copyright PWxyz, LLC. All rights reserved.