Reviews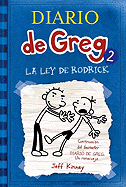 School Library Journal
Copyright © Reed Business Information, a division of Reed Elsevier Inc. All rights reserved.

Gr 5-8-This is the well-translated and hilariously entertaining Spanish-language version of Diary of a Wimpy Kid: Rodrick Rules. Greg's adventures and antics in middle school, the journal format, and the engaging cartoon art will appeal to new Spanish readers familiar with the character and to readers who come from predominantly Latin American countries. This edition, which differs slightly from the one published in Spain, is culturally more in sync with the American middle-school experience. The book design makes this title pleasurable reading for kids who are fluent in Spanish and for those just learning the language.-Eric Gomez, Broward County African-American Research Library, Fort Lauderdale, FL Copyright 2009 Reed Business Information.
---
Book list
From Booklist, Copyright © American Library Association. Used with permission.

In this second entry in the wildly popular series, Greg relates his experiences with his bossy brother, his unpredictable neighbors, and his numerous obligations at school. Morán's Spanish rendition retains the same jocular tone of the English original, and it includes a few Peninsular Spanish expressions that are completely comprehensible in context. The black-and-white cartoons on every page extend the fun.--Schon, Isabel Copyright 2009 Booklist