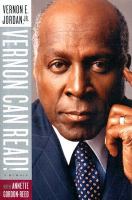 Book list
From Booklist, Copyright © American Library Association. Used with permission.

Jordan, a major U.S. civil rights figure, looks back with satisfaction at all the important threads that have made up his fascinating life and weaves them into an engrossing tapestry. To explain the title of his book, Jordan describes a significant incident that occurred when he served as the chauffeur for a member of Atlanta's white elite, who was surprised to come across a black man who could read. The greatest formative influence of Jordan's life was his mother, and he pays her great respect in the absorbing pages of this memoir (written with the help of coauthor Gordon-Reed). The philosophy she impressed upon him was to "make the most of what you have at the moment, do the best you can when it counts, and hope and expect good outcomes from your efforts." This sentiment served as the impetus behind the steps he took in his distinguished career, from entering the law to working with the NAACP, the United Negro College Fund, and the Urban League. No one can gain a comprehensive view of the movement for equal rights in this country and the differences the struggle has made in the lives of blacks without paying attention to what Jordan says and stands for. --Brad Hooper YA: For teens interested in civil rights history. BH.
---
Library Journal
(c) Copyright Library Journals LLC, a wholly owned subsidiary of Media Source, Inc. No redistribution permitted.

While on summer break in 1955 from DePauw University, Jordan worked as a chauffeur for Robert Maddox, the racist president of the First National Bank of Atlanta. Maddox was dumbfounded to discover that Jordan could do more than drive that "Vernon can read." Jordan, most recently an informal adviser to President Clinton, presents an engaging memoir of his arduous yet successful struggle to claim the African American dream. The most entertaining chapters discuss a childhood molded by church, school, and family, especially his mother and "greatest friend," Mary Jordan. The chapters on his rising civil rights career, which include being a young attorney for the NAACP during the University of Georgia desegregation, serving as head of the United Negro College Fund, and following the legendary Whitney Young as chief executive of the National Urban League, are sprinkled with insights. These include the low priority given to African American concerns by Presidents Carter and Reagan and the observation that Northern whites are often more secretive and less trustworthy about their racial views than Southern whites. The power of this biography derives from Jordan's honesty and the simple elegance of his writing. Reminiscent of John Lewis's Walking with the Wind (LJ 5/15/98), this book is highly recommended for all public libraries. Karl Helicher, Upper Merion Twp. Lib., King of Prussia, PA (c) Copyright 2010. Library Journals LLC, a wholly owned subsidiary of Media Source, Inc. No redistribution permitted.
---
Publishers Weekly
(c) Copyright PWxyz, LLC. All rights reserved

While Jordan's autobiography garnered interest from the moment its publication was announced, its ultimate form surprises. Disappointment awaits those expecting Clinton/ Lewinsky dirt, since the book "effectively ends in the 1980s. All that has happened to me since then is too close to be considered true memories," Jordan writes. But his narrative mission here is not recent political scandal. Jordan means to "bridge the gap" between the years African-Americans were forced to move to the back of the bus and the time when "a young black girl [Vernon's daughter Vickee] could be so confident in her humanity that she found it unfathomable that anyone could try and take it away from her." The bridge, of course, is Jordan himself, and he tells his success story with a concentration and devotion that gives it all the fervor and logic of a good long speech. While readers are treated to some particulars of Jordan's youth (waiting tables for his mother's catering business, attending segregated Atlanta schools in the 1940s and early '50s and then the predominantly white DePauw University) and the trajectory of his early career as a field director for the NAACP, executive director of the United Negro College Fund and president of the National Urban League), there are few more personal revelations. With its lack of extraneous detail and its studious avoidance of private thoughts, this is less a traditional memoir than an extended exposition of an impressive CV. Even so, it should remind people of this chapter in American history and Jordan's crucial role in it. (Oct. 22) Forecast: With Jordan's high profile, this is an automatic big seller. If it's marketed correctly, it should have a wide appeal, too anyone interested in the history of the civil rights movement will appreciate this detailed account of the people and organizations that helped transform a segregated nation. (c) Copyright PWxyz, LLC. All rights reserved