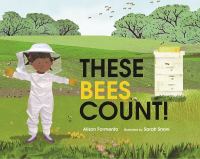 School Library Journal
(c) Copyright 2010. Library Journals LLC, a wholly owned subsidiary of Media Source, Inc. No redistribution permitted.

K-Gr 2-As with This Tree Counts! (Albert Whitman, 2010), the title of this book has a double meaning. Mr. Tate's class is visiting the Busy Bee Farm. After they are safely garbed in their protective gear, they are taken on a tour by Farmer Ellen, who explains how bees make honey and how important they are in making food and flowers grow. The narrative has an easy conversational flow that maintains interest while providing a wealth of information. The book continues with the literal counting portion as the bees fly out to do their work: "One by one, we zip up high,/buzzing through/the bright blue sky." The collage illustrations are a delight, featuring an inviting landscape of fields and flowers and a multi-ethnic cast of children. The sense of texture in the pictures is palpable to the point that one is almost surprised to find that the paper is flat and smooth. An informative author's note includes information on CCD (Colony Collapse Disorder), a problem currently plaguing beekeepers. Pair this with Laurie Krebs and Valeria Cis's The Beeman (Barefoot, 2008) for a bee-utiful storytime.-Grace Oliff, Ann Blanche Smith School, Hillsdale, NJ (c) Copyright 2012. Library Journals LLC, a wholly owned subsidiary of Media Source, Inc. No redistribution permitted.
---
Book list
From Booklist, Copyright © American Library Association. Used with permission.

In this sequel to This Tree Counts! (2010), Mr. Tate's class takes a field trip to Busy Bee Farm. Wearing protective suits, the children learn about bees and visit their hives. After watching them fly about the fields, trees, and garden, the students examine honeycombs and hear about honey production. A concluding page offers more information about honeybees. Written from the bees' point of view, the picture book's fanciful center section includes a little counting practice, with numbers from 1 to 10. With a light, informative narrative and pleasant digital-collage artwork, this picture book offers an engaging introduction to bees.--Phelan, Carolyn Copyright 2010 Booklist
---
Publishers Weekly
(c) Copyright PWxyz, LLC. All rights reserved

The sequel to This Tree Counts! follows Mr. Tate's class on a field trip to an apiary. Like its predecessor, the story is anchored by a counting poem, in this case one that imagines gathering pollen from a bee's-eye view ("We find three wild strawberries bursting with sweetness./ Four apple blossoms tickle us with soft petals") and shows that many flowering plants depend on bees. Decked out in beekeeper suits, the students learn from the friendly apiary workers about how bees make honey and how it is extracted from combs. Formento's fresh, crisp digital images bring visual variety to the message about the importance of bees in food chains. An afterword provides additional information and discusses colony collapse disorder. Ages 4-7. Agent: Courtney Miller-Callihan, Sanford J. Greenburger Associates. Illustrator's agent: Libby Snow, Artist Representative. (Mar.) (c) Copyright PWxyz, LLC. All rights reserved.