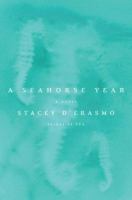 Library Journal
Copyright © Reed Business Information, a division of Reed Elsevier Inc. All rights reserved.

In her second novel (after Tea), D'Erasmo explores how a supposedly unconventional family is no different from a traditional one when confronted with difficult choices. Set in contemporary San Francisco, the story centers on Nan, an ex-Texan bookseller; Hal, an accountant who was once a local celebrity in a campy gay troupe; their teenaged son, Christopher; and Nan's artist lover, Marina. The balancing acts that define their lives are challenged when Christopher is diagnosed with a serious mental illness and disappears into the northern California hills with his girlfriend. Alternating perspectives and controlled, nuanced writing bring depth and compassion to each character, illuminating their flaws and contradictions to full effect. While this is a strong domestic drama, it loses momentum toward the end and is weakest in its depiction of teenage angst (e.g., the repetitive references to P.J. Harvey run thin). But the sympathetically drawn characters and brilliant moments in her writing make D'Erasmo an author to watch. Recommended for most fiction collections. [Previewed in Prepub Alert, LJ 3/15/04.]-Misha Stone, Seattle P.L. Copyright 2004 Reed Business Information.
---
Publishers Weekly
Copyright © Reed Business Information, a division of Reed Elsevier Inc. All rights reserved.

D'Erasmo's quiet, penetrating second novel (after Tea) follows a San Francisco family coping with a 16-year-old son's mental illness. Christopher's mom, Nan, is in a long-term relationship with girlfriend Marina, who's like another mom; his sperm donor dad, Hal, is gay, a dancer-turned-CPA. But despite the unconventional setup, his parents sometimes act with the confused stiffness of the most traditional of families. When Christopher runs away the first time, Nan is distraught; she explains that her son had "a freak-out, we think. He wouldn't wash, he was angry all the time, he was saying all sorts of strange stuff, and he just, he just wasn't Christopher." After Christopher is fetched home, he's diagnosed with schizophrenia; Nan, meanwhile, is grasping at connection, and Marina's sleeping with someone else. D'Erasmo portrays Christopher's strange thoughts with beauty and insight; his misguided girlfriend, Tamara, is also tenderly, convincingly rendered. The family's unsettled state adds to the complications, as Christopher nearly kills himself and then escapes, with Tamara's help, from a mental health facility. As D'Erasmo shifts between different points of view-distinct, but united by her lush prose-she paints a portrait of illness, but also of growth and change. 5-city author tour. Agent, Jennifer Carlson. (July 7) Forecast: The book's non-traditional family set-up and effortless prose will remind readers of Michael Cunningham's early novels, and should help build D'Erasmo's readership. Copyright 2004 Reed Business Information.
---
Book list
From Booklist, Copyright © American Library Association. Used with permission.

Christopher, a 16-year-old San Franciscan, is missing, and his parents--Hal, an accountant, and Nan, a bookstore owner--are frantic. As is Marina, a painter and Nan's live-in lover. As this high-strung trio search their souls for clues to sweet Christopher's inexplicable disappearance, D'Erasmo reverses time to reveal that Nan and Hal, who is also gay, barely knew each other when she decided that she wanted to have a child. Neither could have predicted just how loving a father Hal would be, just as they never could have imagined that their son would end up suffering from the most diabolical of illnesses, schizophrenia. In her sterling debut, Tea (1999), D'Erasmo explored the repercussions of a mother's suicide. Here, in an even more refined and hard-hitting tale, she maps the ripple effect of a loved child's mental illness on adults already coping with complex emotional predicaments. Marina is unfaithful; Hal is lonely; and Nan is terrified, enraged, and heroic. Fluent in the subtlest of psychological states and gloriously visual in her resonant descriptions of everything from table settings to a redwood forest, D'Erasmo composes scenes of both high drama and grinding everydayness to form a supple yet piercing novel of obdurate individuality, inescapable aberration, and oceanic love. --Donna Seaman Copyright 2004 Booklist
---
Library Journal
Copyright © Reed Business Information, a division of Reed Elsevier Inc. All rights reserved.

Christopher's family life may be cutting edge-his mom has set up house with her lover, Marina, while his gay dad pursues loves of his own-but the adults are typically clueless when it comes to adolescent angst. Everyone was really high on D'Erasmo's Tea. Copyright 2004 Reed Business Information.