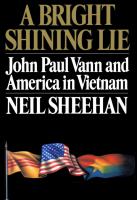 Publishers Weekly
(c) Copyright PWxyz, LLC. All rights reserved

Killed in a helicopter crash in Vietnam in 1972, controversial Lt. Col. John Paul Vann was perhaps the most outspoken army field adviser to criticize the way the war was being waged. Appalled by the South Vietnamese troops' unwillingness to fight and their random slaughter of civilians, he flouted his supervisors and leaked his sharply pessimistic (and, as it turned out, accurate) assessments to the U.S. press corps in Saigon. Among them was Sheehan, a reporter for UPI and later the New York Times (for whom he obtained the Pentagon Papers). Sixteen years in the making, writing and re search, this compelling 768-page biography is an extraordinary feat of reportage: an eloquent, disturbing portrait of a man who in many ways personified the U.S. war effort. Blunt, idealistic, patronizing to the Vietnamese, Vann firmly believed the U.S. could win; as Sheehan limns him, he was ultimately caught up in his own illusions. The author weaves into one unified chronicle an account of the Korean War (in which Vann also fought), the story of U.S. support for French colonialism, descriptions of military battles, a critique of our foreign policy and a history of this all-American boy's secret personal liehe was illegitimate, his mother a ``white trash'' prostitutethat led him to recklessly gamble away his career. 100,000 first printing; first serial to the New Yorker; BOMC main selection ; a uthor tour. (October) (c) Copyright PWxyz, LLC. All rights reserved
---
Book list
From Booklist, Copyright © American Library Association. Used with permission.

While John Paul Vann's name isn't as well known as Patton's or MacArthur's, this comprehensive biography might alter that. It depicts a strong-willed, capable man who vocally objected to the inefficient and inept handling of the Vietnam War by Saigon and Washington and, in addition, cultivated good relationships with the media. Lieutenant Colonel Vann diligently opposed General Westmoreland's war of attrition. The saturation bombing and heavy loss of civilian life did not fit into his picture of how a war should be fought and won. Though weak on the later years of Vann's life, Sheehan's biography is an engrossing account of a public and private man as well as an informative history of the U.S. presence in Vietnam. Bibliography, notes; to be indexed. BAS.
---
Choice
Copyright American Library Association, used with permission.

Sheehan, a Vietnam War correspondent for United Press International and The New York Times, spent 16 years writing this book, and the final product clearly justifies the effort and wait. A Bright and Shining Lie is quite simply the best single book on the war in Vietnam, period. Sheehan brilliantly interweaves three fundamental strands: a readable and compelling history of the war; the crucial role of Lt. John Paul Vann as advisor, strategist, and "lobbyist" for American efforts in Vietnam; and a fascinating account of Vann's personal life. Vann's views of the war mirrored America's, as he moved from commitment to disillusionment with strategy and tactics, to blind faith in his ability to turn the war around. Beautifully written and filled with fascinating detail (including some superb descriptions of actual combat), this monumental work stands as a testament both to Sheehan and to Vann--who realized that the war was indeed a lie but was nonetheless drawn to it. Absolutely recommended for all libraries. -A. O. Edmonds, Ball State University
---
Library Journal
(c) Copyright Library Journals LLC, a wholly owned subsidiary of Media Source, Inc. No redistribution permitted.

Vann was a figure of legends, first as a military advisor and later as a civilian official, renowned for his bravery and special insight into and openness about the developing failure in Vietnam. He appeared to sacrifice his military career in 1963, demonstrating uncommon integrity, and died in 1972 after leading the successful defense of Kontum. Sheehan, the New York Times reporter who obtained the Pentagon Papers from Daniel Ellsberg, reveals a flawed herocapable of deceit in furthering his reputation and his cause and of insatiable sexual exploits that had already ended hopes of promotionbut still a remarkable man. More importantly, Vann serves as the anchor of a detailed, well-researched, very respectable, and readable attempt to explain the Vietnam experience. Excerpted in The New Yorker. Highly recommended. BMOC main selection.Kenneth W. Berger, Duke Univ. Lib., Durham, N.C. (c) Copyright 2010. Library Journals LLC, a wholly owned subsidiary of Media Source, Inc. No redistribution permitted.