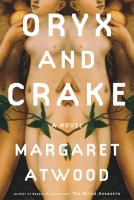 Library Journal
(c) Copyright Library Journals LLC, a wholly owned subsidiary of Media Source, Inc. No redistribution permitted.

As in The Handmaid's Tale, Atwood has seen the future, and it isn't good: get ready for ecological devastation. (c) Copyright 2010. Library Journals LLC, a wholly owned subsidiary of Media Source, Inc. No redistribution permitted.
---
Publishers Weekly
(c) Copyright PWxyz, LLC. All rights reserved

Atwood has visited the future before, in her dystopian novel, The Handmaid's Tale. In her latest, the future is even bleaker. The triple whammy of runaway social inequality, genetic technology and catastrophic climate change, has finally culminated in some apocalyptic event. As Jimmy, apparently the last human being on earth, makes his way back to the RejoovenEsencecompound for supplies, the reader is transported backwards toward that cataclysmic event, its full dimensions gradually revealed. Jimmy grew up in a world split between corporate compounds (gated communities metastasized into city-states) and pleeblands (unsafe, populous and polluted urban centers). His best friend was "Crake," the name originally his handle in an interactive Net game, Extinctathon. Even Jimmy's mother-who ran off and joined an ecology guerrilla group when Jimmy was an adolescent-respected Crake, already a budding genius. The two friends first encountered Oryx on the Net; she was the eight-year-old star of a pedophilic film on a site called HottTotts. Oryx's story is a counterpoint to Jimmy and Crake's affluent adolescence. She was sold by her Southeast Asian parents, taken to the city and eventually made into a sex "pixie" in some distant country. Jimmy meets Oryx much later-after college, after Crake gets Jimmy a job with ReJoovenEsence. Crake is designing the Crakers-a new, multicolored placid race of human beings, smelling vaguely of citron. He's procured Oryx to be his personal assistant. She teaches the Crakers how to cope in the world and goes out on secret missions. The mystery on which this riveting, disturbing tale hinges is how Crake and Oryx and civilization vanished, and how Jimmy-who also calls himself "the Snowman," after that other rare, hunted specimen, the Abominable Snowman-survived. Chesterton once wrote of the "thousand romances that lie secreted in The Origin of Species." Atwood has extracted one of the most hair-raising of them, and one of the most brilliant. (May 6) Forecast: Readers who know Atwood primarily as the author of The Handmaid's Tale will be thrilled by this return to the future; those who follow her work more closely will be even more impressed. This is a potential dystopian classic and should sell accordingly. Author tour. (c) Copyright PWxyz, LLC. All rights reserved
---
Book list
From Booklist, Copyright © American Library Association. Used with permission.

Surely Atwood deserved a respite after The Blind Assassin (2000) won the Booker Prize, but the muse had more to say, hence this hijack-intense speculative novel, sister to one of Atwood's most indelible works, The Handmaid's Tale (1985). Jimmy is struggling to stay alive on a wreckage-littered Earth besieged by a brutal sun and overrun with smart and vicious test-tube-bred predators. Now calling himself Snowman (as in Abominable), he's preparing for an arduous scavenger expedition back to the formerly high-tech compound in which he lived and worked until the bioengineering industry ran amok and a catastrophic event put an end to civilization. Snowman is desperately lonely, but he isn't actually alone since he serves as guru for a strangely passive tribe unaware of the lost world of computers, bullet trains, Web porn, gene-splicing, and the plagues that Snowman so vividly and regretfully recalls. As Snowman remembers his friend, Crake, an emotionally remote genius, as well as the love of Snowman's life, an enigmatic survivor of childhood sexual abuse called Oryx, Atwood conjures a grim, all-too-plausible future in order to consider the possibly devastating consequences of our present ill-advised biotech pursuits. Rigorous in its chilling insights and riveting in its fast-paced "what if" dramatization, Atwood's superb novel is as brilliantly provocative as it is profoundly engaging. --Donna Seaman
---
Library Journal
(c) Copyright Library Journals LLC, a wholly owned subsidiary of Media Source, Inc. No redistribution permitted.

The doyenne of Canadian literature (she's won both a Booker and a Giller Prize), the versatile Atwood has an uncanny ability to write in a number of literary genres. Like The Handmaid's Tale, her latest work is set in a near future that is all too realistic and almost too terrifying to contemplate. Having once led a life of comfort and self-indulgence, Jimmy, now known as Snowman, has survived an ecological disaster that has destroyed the world as we know it. As he struggles to function without everything he once knew, including time, Snowman reflects on the past, on his relationships with two characters named Oryx and Crake, and on the role of each individual in the destruction of the natural world. From its opening scene, in which the children of Crake scavenge through debris, to its horrifying conclusion, this novel challenges the reader, cleverly pairing familiar aspects of the world with parts that have been irrevocably changed. A powerful and perturbing glimpse into a dark future, this is Atwood's impassioned plea for responsible management of our human, scientific, and natural resources and a novel that will cast long and lingering shadows in the reader's mind, well after the book is closed. [Previewed in Prepub Alert, LJ 1/03.]-Caroline Hallsworth, City of Greater Sudbury, Ont. (c) Copyright 2010. Library Journals LLC, a wholly owned subsidiary of Media Source, Inc. No redistribution permitted.