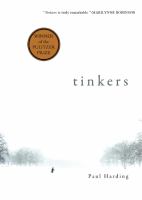 Tinkers
Annotation
Pulitzer Prize Winner
"New York Times" Bestseller
"There are few perfect debut American novels. . . . To this list ought to be added Paul Hardings devastating first book, "Tinkers." . . . Harding has written a masterpiece." --National Public Radio
"In Paul Hardings stunning first novel, we find what readers, writers and reviewers live for." --"San Francisco Chronicle"
""Tinkers" is truly remarkable." --MARILYNNE ROBINSON, Pulitzer Prize-winning author of "Home, Gilead, " and "Housekeeping"
An old man lies dying. Propped up in his living room and surrounded by his children and grandchildren, George Washington Crosby drifts in and out of consciousness, back to the wonder and pain of his impoverished childhood in Maine. As the clock repairers time winds down, his memories intertwine with those of his father, an epileptic, itinerant peddler and his grandfather, a Methodist preacher beset by madness. At once heartbreaking and life affirming, "Tinkers" is an elegiac meditation on love, loss, illness, faith, and the fierce beauty of nature.
Paul Harding is the author of two novels: the Pulitzer Prize-winning "Tinkers" and "Enon" (forthcoming in September 2013). He graduated from the University of Massachusetts and was a drummer for the band Cold Water Flat before earning his MFA from the Iowa Writers Workshop. He has taught writing at Harvard and the University of Iowa. A Guggenheim Fellow, Harding now lives in Massachusetts with his wife and two sons.
Awards
2010 American Library Association Notable Books
2009 Library Journal Best Books of the Year
2009 Publishers Weekly Best Books of the Year
2010 Pulitzer Prize
Author Notes
Paul Harding has an MFA from the Iowa Writers' Workshop and teaches creative writing at Harvard. He lives in Georgetown, Massachusetts.
Characters
| | |
| --- | --- |
| Name | Crosby, George Washington |
| Gender | Male |
| Occupation | Repairman |
Genre

Fiction


Topics

Grandfathers
Death and dying
Childhood memories
Family relationships
Epilepsy
Fathers and sons
Reminiscenes


Setting

Massachusetts, New England (U.S.)