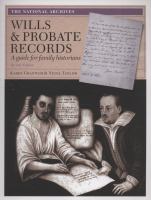 Wills and Probate Records
Annotation
Wills and related records are a valuable source of information for family historians revealing details of ancestors' lives, families, livelihoods and even personalities. This practical and accessible guide shows how to get the most from these seemingly complex records, including those scattered in church courts before central registration was introduced in 1858. Suitable for both those starting out and for more experienced researchers, "Wills and Probate Records" explores documents and institutions, legal terms and Latin phrases, as well as navigating the rapidly expanding digital resources that have transformed family history research. From wills and death duty registers to inventories and litigation, this is an invaluable guide to our ancestor's last documents.
Author Notes
Karen Grannum worked for 18 years at the National Archives, specializing in legal records, particularly wills and other probate records. She contributed to Family History Companion (The National Archives, 2007) and prepared the second edition of Using Wills for the successful Pocket Guides series (Public Record Office, 2001).
Nigel Taylor is a Legal Records Specialist at the National Archives, where he has worked since 1989. Like Karen, he has wide experience of advising the public on wills and legal documents.