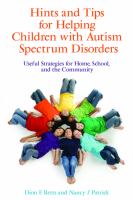 Hints and Tips for Helping Children with Autism Spectrum Disorders
Annotation
If you have a child on the autism spectrum who struggles with thechallenges of daily life, then this book is for you! Hints andTips is peppered with vignettes and stories of real-lifesituations and successes, and offers clever ideas for tackling everydaydifficulties, such as bathing, bedtime, school trips, and selecting theright child minder.
Dion E. Betts and Nancy J. Patrick provide creative, practicalstrategies to help parents and caregivers to support their child, andto enable their child to develop the social skills needed to manage andenjoy daily life to the fullest. The book is split into five parts:home life, hygiene, community, medical, and schools and organizations.Common problem areas are also tackled in a toolkit section, whichincludes checklists, to-do lists, visual schedules, and mnemonics toaid memory and retrieval.
Hints and Tips for Helping Children with Autism SpectrumDisorders is an essential aid for parents and carers to make smalland simple changes that result in big improvements in the quality oflife of children, their families, and carers.
Author Notes
Dion E. Betts Ed.D. is a special education administrator, adjunct professor, writer, and presenter
Nancy J. Patrick Ph.D. is Assistant Professor of Special Education at Messiah College, Grantham, Pennsylvania. She is both a certified school psychologist and licensed psychologist, as well as an author, teacher, writer, and presenter. She lives near Harrisburg, Pennsylvania, with her husband and their three children, one of whom has a disability