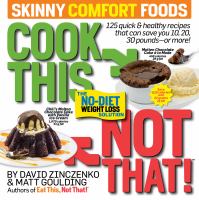 Cook This, Not That! Skinny Comfort Foods
Annotation
Master the Fast & Easy Secrets of Skinny Comfort Food-And Watch the Pounds Disappear!
Author Notes
David Zinczenko is the editor-in-chief of Men's Health and editorial director of Women's Health and Best Life. He is a regular contributor to the Today show.
Matt Goulding is a New York Times bestselling food author. He has cooked and eaten his way around the world and now lives in Barcelona, Spain.