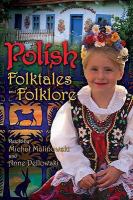 Polish Folktales and Folklore
Annotation
Wit, humor, and warmth permeate the stories in this collection. Here are more than 50 traditional folktales from the people of Poland, ranging from animal and humorous tales to why stories, tales of magic and the supernatural, and local legends. In addition, you'll find riddles, nursery rhymes, games and activities, recipes, and background information on the land, the people, and the stories-all enhanced by maps and handsome color photos and illustrations. A wonderful addition to the folklore collection, this book provides material that folklorists will wish to study, storytellers will be eager to share with their audiences, and educators will want explore with their students.
Author Notes
Anne Pellowski served as a children's librarian in the New York Public Library for almost ten years.
Michal Malinowski founded and directs the Storyteller Museum, in Poland.