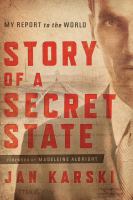 Story of a Secret State
Annotation
Karski's Story of a Secret State stands as inspiring memoir of World War II and the Holocaust. With elements of a spy thriller, documenting his experiences in the Polish Underground, and as eyewitness accounts of the Holocaust, this volume is a testimony of one man's courage, and a nation's struggle for resistance against oppression.
Genre

NonFiction
History
War
Memoir


Topics

Resistance fighters
Underground movements
Extermination camps
War memories
Prisoners of war
Torture
German occupation of Poland
Military history


Setting

Poland
England
Washington, D.C.