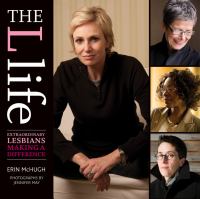 The L Life
Annotation
There have been few cultural touchstones to open people's eyes to everyday lesbian life--until now. Through fascinating interviews and stunning portrait photography,
The L Life
introduces us to the women who are changing our view of the world. This candid collection is a celebration of real women, alongside headline-makers such as breast cancer researcher and bestselling author Dr. Susan Love; groundbreaking authors Alison Bechdel and Ann Bannon; entertainers such as actress Jane Lynch and comedian Kate Clinton; Congresswoman Tammy Baldwin and longtime activist Phyllis Lyon; award-winning film producer Christine Vachon; and many more. Praise for The L Life: "The book will have lasting import. Add the exquisite images by photographer May, and it's more than a winning package that should be on your radar for upcoming gift giving opportunities such as Gay Pride and the holidays."
-
Curve
"Author Erin McHugh has done the world a great service. Celebrating and commemorating Women's History Month with its release, McHugh's
The L Life: Extraordinary Lesbians Making a Difference
conveniently collects within one cover the best and brightest of those women whose work and spirit is a template not only of our past, but also for where we, as a culture, are headed."
-OutSmart

"With casually candid interviews by author Erin McHugh and stunning new portraits by photographer Jennifer May, this essential hardcover tribute, available March 1, celebrates newsmakers and ordinary inspirations like
Dykes to Watch Out For's
Alison Bechdel, comedian Kate Clinton, breast cancer researcher Dr. Susan Love, activist Phyllis Lyon, producer Christine Vachon, and
Glee's
Jane Lynch. Rosie and Ellen aren't even missed."
-Advocate.com "You know you've arrived and are here to stay when you get your own coffee-table book-and Erin McHugh's photo-album tribute to out-proud gay women,
The L Life: Extraordinary Lesbians Making a Difference
, begs to be put on display."
-Ms. Magazine
Genre

NonFiction
Domestic
--Lesbian
--Gay and lesbian
Sociology
Biography


Topics

Lesbians
Homosexuality
Sociology
Interviews
Women's lives
Women's studies
Women