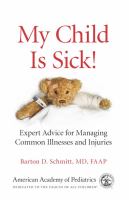 My Child Is Sick!
Annotation
An economical and effective office giveaway, this quick-reference guide will help parents decide what to do next when confronted with the most common childhood illnesses or injuries. Readers can look up symptoms by affected area of the body and receive clear, up-to-date advice about how to treat minor illnesses at home, or when to immediately call the doctor.
Awards
2012 Benjamin Franklin Award
Author Notes
Barton D. Schmitt, MD, FAAP, is a professor of pediatrics at the University of Colorado School of Medicine and medical director of the After-Hours Call Center at Children's Hospital Colorado. Dr Schmitt is the author of Pediatric Telephone Protocols: Office Version, published by the American Academy of Pediatrics (AAP), and Your Child's Health (Bantam Books). Dr Schmitt has received several awards, including the C. Anderson Aldrich Award for contributions in child development and the Education Award for contributions in pediatric education, both from the AAP.