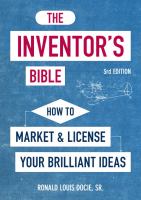 The Inventor's Bible, 3rd Edition
Annotation
The following description refers to an outdated version of the book. Please see "The Inventor's Bible, Fourth Edition," for themost currentedition.
The Definitive Guide for Inventors
Features the PATENT AND NEW PRODUCT MARKETING WORKBOOK that takes you step-by-step through:
Protecting Your Idea (choosing the right steps)
Patenting (how, when, and why)
Selecting Manufacturers (that will do the best job)
Finding the Best Markets (and expanding opportunities)
Developing a Strategy and Market Plan (that fits perfectly into business plans)
Presenting Your Invention to Companies (without getting ripped off)
Negotiating the Best Deal (and how to hire the best advisors)"
Author Notes
Ronald Louis Docie's career in the world of inventions spans more than three decades. His own inventions are found in Wal-Mart, Kmart, and thousands of other outlets. As an agent for inventors, Docie has negotiated over fifty licenses with such companies as General Motors. He is an expert consultant on idea submission to Johnson Johnson and other prominent companies. Docie is the president of Docie Development, LLC, an international company that provides services for inventors and corporations.