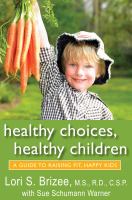 Healthy Choices, Healthy Children
Annotation
Engaging, practical, and filled with quick tips, this is a must read for the busy parent trying to navigate the challenging world of kids and food.
Author Notes
Lori S. Brizee is a registered dietitian and certified specialist in pediatric nutrition with over 27 years of experience, and the mother of two. Prior to moving to central Oregon she worked at Seattle Children's Hospital and Regional Medical Center for 20 years. Lori currently works in private practice with patients of ail ages.
Sue Schumann Warner is an award-winning journalist and author with over 30 years of experience writing for national and international publications.