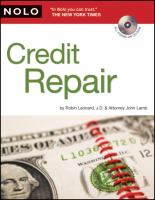 Credit Repair
Annotation
How to clean up your credit mess now In these times of tightening credit markets and economic anxiety, a bad credit report can prevent you from getting a mortgage, a car loan, a credit card, an apartment, or even a job. Fortunately, the sensible strategies in Credit Repair can help you take control and clean up your credit report. This bestselling book will help you: get your credit report-and understand what it means correct mistakes on your credit report add positive information to your credit report build a solid credit history negotiate with creditors create a realistic budget avoid identity theft and scams The 9th edition of Credit Repair is completely updated with the latest legal developments. Book jacket.
Author Notes
Robin Leonard is a former Nolo editor and coauthor of many personal finance books, including Nolo's Solve Your Money Troubles and How to File for Chapter 7 Bankruptcy.
John Lamb has been a consumer lawyer in California for many years, specializing in credit, privacy, automobile and landlord-tenant issues. He is the coauthor of Solve Your Money Troubles.