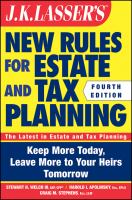 New Rules for Estate and Tax Planning
Annotation
A complete guide to planning an estate under today′s tax rules When it comes to an estate (no matter how big or small it may be) nothing should be left to chance. Proper planning is necessary to protect both your assets and your heirs.
Author Notes
Stewart H. Welch III, AEP, CFP, is a nationally recognized financial advisor who is widely quoted in the press including Money magazine, the Wall Street Journal, Worth, and many other publications. He has served as Chair of the Disciplinary and Ethics Commission and as a member of the Board of Directors of the Certified Financial Planner Board of Standards, Inc. Mr. Welch's company, The Welch Group, is a fee-only money management and financial advisory firm in Birmingham, Alabama.
Harold I. Apolinsky, Esq., EPLS, is a board-certified estate planning attorney with the law firm Sirote Permutt, PC in Birmingham, Alabama. He previously taught estate planning at the Cumberland School of Law and the University of Alabama Law School.
Craig M. Stephens, Esq., LLM, is co-chair of Sirote Permutt, PC's Estates, Wills, and Trusts practice group in Birmingham, Alabama. His practice focuses on representing individuals in the estate planning process, with a focus on tax-minimization strategies. He is an adjunct professor of estate planning and estate and gift taxation at the Cumberland School of Law.