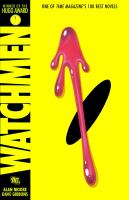 Watchmen
Annotation
A "New York Times" Best Seller
This Hugo Award-winning graphic novel chronicles the fall from grace of a group of super-heroes plagued by all-too-human failings. Along the way, the concept of the super-hero is dissected as the heroes are stalked by an unknown assassin.
One of the most influential graphic novels of all time and a perennial bestseller, WATCHMEN has been studied on college campuses across the nation and is considered a gateway title, leading readers to other graphic novels such as V FOR VENDETTA, BATMAN: THE DARK KNIGHT RETURNS and THE SANDMAN series.
Awards
1988 Locus Awards
1988 Hugo Awards
Author Notes
Alan Moore is perhaps the most acclaimed writer in the graphic story medium, having garnered many awards for works such as Watchmen, V For Vendetta, From Hell, Miracleman, and Swamp Thing. He is currently masterminding the entire America's Best Comics line, writing Tom Strong, Top 10 and Tomorrow Stories as well as Promethea, with more in the planning stages. As one of the major innovators of comics in the '80s, he has influenced a generation of comics creators. He resides in central England. Dave Gibbons began his comics career in 1973. A frequent contributor to Britain's influential 2000AD, he illustrated such renowned strips as Harlem Heroes, Dan Dare and Rogue Trooper for that publication. Gibbons also worked on the popular Doctor Who strip and, in 1982, began his long association with DC Comics, drawing the Green Lantern series. Since then he has both drawn and written many of their major characters, including Superman and Batman. He is currently working on a major new graphic novel, The Originals, for DC's Vertigo imprint, handling every aspect of its creation.
Genre

Fiction
Graphic novel
Fantasy
--Dark
Adventure
Cinematization
--Movie


Topics

Superheroes
Assassination plots
Violence
Good vs. evil
Comic strips