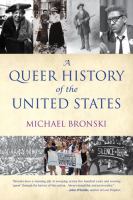 A Queer History of the United States
Annotation
Michael Bronski's
A Queer History of the United States
is truly among the first of its kind. Engaging and thought-provoking, it's more than a sweeping survey--the book radically challenges how we understand queer American history. Both comprehensive and accessible,
A Queer History of the United States
restores the visibility of people relegated to the margins of history to make the provocative claim that LGBT history is American history.
Awards
2012 Lambda Literary Awards
Genre

NonFiction
Domestic
--Gay
--Gay and lesbian
--Lesbian
History
Sociology


Topics

Homosexuality
Gay men
Lesbians
Bisexuals
Transsexuals
Sexuality
American history
Social history
Sociology