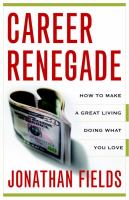 Career Renegade
Annotation
There's a revolution brewing across the nation--a movement that's changing lives and revealing little known paths to passion and prosperity.
It's about building a great living around what you love to do most. Once you've been touched by it, you'll never be the same. This book is your way in, your admission ticket to the world of the career renegade.
Jonathan Fields, mega-firm lawyer turned successful lifestyle entrepreneur, blogger and writer shows you how to turn your passion-whether it's cooking or copy-writing, teaching or playing video games-into a better payday and a richly satisfying life.
* Discover the 7 career renegade paths to prosperity
* Tap technology to turn a seemingly moneyless passion into a goldmine
* Rapidly test and tune your idea for free, from the comfort of your couch
* Establish yourself as an authority in a new field with little or no investment
* Cultivate the mission-driven, action-oriented career renegade mindset
* Rally others to your cause, and convince them you're not nuts
Join the movement now...and take back your livelihood and life
Author Notes
Jonathan Fields, mega-firm lawyer-turned-serial entrepreneur, shows you how to turn your passion-whether it's cooking or copywriting, teaching or playing video games-into a better payday and a richly satisfying life