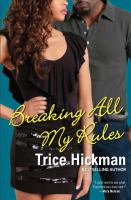 Breaking All My Rules
Annotation
Real love is in a class all its own. . .
Born into wealth, Erica Stanford has followed in her family's successful footsteps and now runs her own upscale boutique in an affluent Washington, D.C., neighborhood. But despite her good fortune, she's still missing someone special to share her life with--until a chance encounter changes everything. . . Handsome, rugged Jerome Kimbrough is hard to miss among the fellow citizens serving jury duty with Erica. And as the two get know each other over the course of a two week trial, their relationship soon extends beyond the courtroom and into a full-on passionate romance. Although they come from opposite worlds--Jerome is a working class, city sanitation employee--they're both hard working dreamers with big ambitions. Yet while their differences aren't an issue for them, their friends, family--and Erica's ex-fiance--disagree. As all involved are forced to confront their hidden stereotypes, can Erica and Jerome endure the challenges in store for them--including a startling secret from their pasts?. . . "I can't wait to see what Trice Hickman does next " --Mary Monroe,
New York Times
bestselling author
Praise for Trice Hickman's Playing the Hand You're Dealt
"Unforgettable characters and a page-turning storyline." -Lutishia Lovely "Another wonderful, emotionally-charged page-turner by Trice Hickman." -Urban Reviews "Will keep you guessing straight through to the explosive ending." -Victoria Christopher Murray
Characters
Name
Kimbrough, Jerome
Gender
Male
Trait
African American
Name
Stanford, Erica
Gender
Female
Occupation
Shop owner
Traits
Wealthy
African American
Genre

Fiction
Romance


Topics

Romantics
Love
Man-woman relationships
Secrets
African Americans
Multiculturalism


Setting

Washington, D.C.