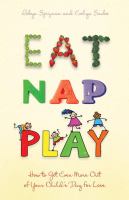 Eat, Nap, Play
Annotation
Parents spend over $200,000 before a child's 18th birthday. In Money-Free Monday to Sunday, moms will get the spending under control by spending and find new ways to entertain their kids without losing their minds or emptying their wallets!
Author Notes
Robyn Spizman is an award-winning, New York Times bestselling author of dozens of books on parenting, a nationally known media personality, and creator of TheGiftionary.com. A former art teacher, she has endless ideas for entertaining kids and endless inspiration for fellow moms. For more information visit www.robynspizman.com.
Evelyn Sacks is a mom and writer who, when her kids were young, never left the house without an old blanket in the car for a spur-of-the-moment picnic and a couple of gloves and a ball for an impromptu catch.