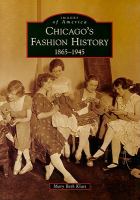 Chicago's Fashion History:
Annotation
From the ashes of the Chicago Fire of 1871 came the birth of the city's fashion scene as entrepreneurs built new storefronts virtually overnight. Aided by the Windy City's incredible network of railroads, these fledgling enterprises in turn created millionaires who wanted to wear the latest clothes from Europe. Marshall Fields and Potter Palmer were among the local elites who regularly boarded ships to France and returned with exquisite suits, coats, hats, gowns, fabrics, and other accessories, which designers sought to re-create with cheaper fabrics and labor. Chicago's reputation as a trendsetting metropolis was only sealed by the city's film industry. Charlie Chaplin and his cast of stylish starlets had women north and south of Madison Street copying every hairdo and dress. Even after moviemaking moved to Los Angeles, actors and actresses traveling to New York City regularly dropped in when they switched trains downtown. By World War II, Chicago, the "City of Big Shoulders," became the place to start a career as a fashion designer.
Author Notes
Mary Beth Klatt specializes in writing about fashion. She has written for Town & Country, American Way, Preservation, and the Chicago Tribune magazines. She has taught Introduction to Fashion Business at Columbia College and sewing at Vogue Fabrics in Evanston.