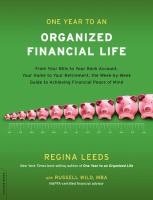 One Year to an Organized Financial Life
Annotation
Do you constantly feel anxious about money? Have unopened credit card statements piled up on your countertop? Are you forever losing receipts for items you meant to return? In an economic downturn taking charge of your financial well-being is more crucial than ever. One Year to an Organized Financial Life is a unique week-by-week plan to make saving money simple, automatic, and stress-free. For decades, professional organizer Regina Leeds and financial advisor Russell Wild have helped thousands of clients get their lives in order. Using Leeds's "Zen organizing" approach, which addresses the underlying causes of chaos and replaces them with routines, they now show readers the steps to improving finances within a manageable timeframe. From sticking to a budget to getting out of debt, curbing spending to maximizing retirement savings, One Year to an Organized Financial Life makes it possible for anyone to live more richly on less.
Author Notes
Regina Leeds, known as the Zen Organizer, is the founder of "Get Organized! by Regina." She is the author of several books, including the New York Times bestseller One Year to an Organized Life. She lives out side of Los Angeles.
Russell Wild, MBA, is a NAPFA-certified financial advisor and principal of Global Portfolios. He is also the author of Index Investing for Dummies and Bono Investing for Dummies. He lives in Allentown, Pennsylvania.
Genre

NonFiction
Business


Topics

Personal finances
Finance
Money
Banking
Investments
Retirement