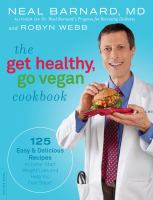 The Get Healthy, Go Vegan Cookbook
Annotation
In Dr. Neal Barnard's Get Healthy, Go Vegan Cookbook , the country's leading diabetes team weighs in on America's hottest dietary trend. The cookbook is based on a landmark two-year study conducted by Dr. Barnard, which showed that a vegan diet more effectively controls type 2 diabetes. In fact, it's also beneficial for weight loss, the reversal of heart disease, and the improvement of many other conditions. Dr. Barnard and nutritionist Robyn Webb now offer easy, delicious meals to improve your health. Featuring 125 flavorful recipes, readers will find all-occasion dishes that use familiar ingredients and require minimal effort. All recipes are free of animal products, low in fat, and contain a low-to-moderate glycemic index. Barnard and Webb explain how diet changes can have such dramatic health effects and provide simple ways to get started. With convenient menus, scientifically proven advice, and inspiring stories from real people who have used Barnard's recommendations to turn their health around, there's no better cookbook to help you eat well and feel great.
Author Notes
Neal Barnard, MD, is a physician, clinical researcher, Adjunct Associate Professor of Medicine at the George Washington University School of Medicine, and principal investigator of a major study on diet and type 2 diabetes, funded by the National Institutes of Health. He is the author of numerous books and has hosted a popular public television program on diabetes. Dr. Barnard is president of the Physicians Committee for Responsible Medicine.
Robyn Webb, MS, is an award-winning nutritionist and nationally recognized cookbook author and spokes-person. She is Food Editor of Diabetes Forecast magazine and a frequent contributor to Cooking Light.