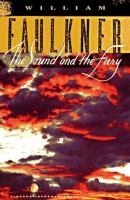 The Sound and the Fury
Annotation
The Sound and the Fury is the tragedy of the Compson family, featuring some of the most memorable characters in literature: beautiful, rebellious Caddy; the manchild Benjy; haunted, neurotic Quentin; Jason, the brutal cynic; and Dilsey, their black servant. Their lives fragmented and harrowed by history and legacy, the character's voices and actions mesh to create what is arguably Faulkner's masterpiece and one of the greatest novels of the twentieth century.
"I give you the mausoleum of all hope and desire. . . . I give it to you not that you may remember time, but that you might forget it now and then for a moment and not spend all of your breath trying to conquer it. Because no battle is ever won he said. They are not even fought. The field only reveals to man his own folly and despair, and victory is an illusion of philosophers and fools." --from
The Sound and the Fury
Author Notes
William Faulkner, one of the greatest writers of the twentieth century, was born in New Albany, Mississippi, on September 25, 1897. He published his first book, The Marble Faun, a collection of poems, in 1924, but it is as a literary chronicler of life in the Deep South-particularly in the fictional Yoknapatawpha County, the setting for several of his novels-that he is most highly regarded. In such novels as Sanctuary (1931), The Hamlet (1940), The Town (1957), and The Mansion (1959), he explored the full range of post-Civil War Southern life, focusing both on the personal histories of his characters (especially members of the Snopes family) and on the moral uncertainties of an increasingly dissolute society. His other novels include The Sound and the Fury (1929), As I Lay Dying (1930), Light in August (1932), Absalom, Absalom! (1936), The Unvanquished (1938), Intruder in the Dust (1948), Requiem for a Nun (1951), A Fable (1954), and The Reivers (1962). For the latter two books, he was awarded the Pulitzer Prize. He also wrote several volumes of short stories as well as collections of poems and essays. In combining the use of symbolism with a stream-of-consciousness technique, he created a new approach to the writing of fiction. In 1949 he was awarded the Nobel Prize for Literature. William Faulkner died in Byhalia, Mississippi, on July 6, 1962.
Characters
Genre

Classic
Literary
Southern fiction
Domestic
--Generational
Psychological
Fiction


Topics

Dysfunctional families
Social outcasts
Mental disability
Hypocrisy
Promiscuity
Incest
Suicide
Family conflicts
Family secrets


Setting

Mississippi