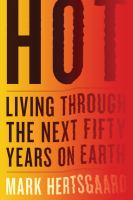 Hot
Annotation
A fresh take on climate change by a renowned journalist driven to protect his daughter, your kids, and the next generation who ll inherit the problemFor twenty years, Mark Hertsgaard has investigated global warming for outlets including the
New Yorker, NPR, Time, Vanity Fair,
and
The Nation.
But the full truth did not hit home until he became a father and, soon thereafter, learned that climate change had already arrived a century earlier than forecast with impacts bound to worsen for decades to come. Hertsgaard's daughter Chiara, now five yea rs old, is part of what he has dubbed "Generation Hot"--the two billion young people worldwide who will spend the rest of their lives coping with mounting climate disruption.
HOT
is a father's cry against climate change, but most of the book focuses on s olutions, offering a deeply reported blueprint for how all of us as parents, communities, companies and countries can navigate this unavoidable new era. Combining reporting from across the nation and around the world with personal reflections on his daugh ter s future, Hertsgaard provides "pictures" of what is expected over the next fifty years: Chicago s climate transformed to resemble Houston s; dwindling water supplies and crop yields at home and abroad; the redesign of New York and other cities against mega-storms and sea-level rise. Above all, he shows who is taking wise, creative precautions. For in the end,
HOT
is a book about how we ll survive."
Genre

NonFiction
Nature
Science


Topics

Climatic changes
Global warming
Environmentalism
Environmental activists
Environmental conservation
Social change
Nature
Science