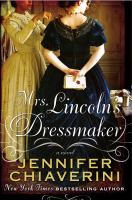 Mrs. Lincoln's Dressmaker
Annotation
In Washington, DC, freedwoman Elizabeth Hobbs Keckley becomes the personal modiste (and confidante) of First Lady Mary Todd Lincoln. Chiaverini departs from her popular "Elm Creek Quilt" series to tell the story.
Characters
Name
Lincoln, Mary Todd
Gender
Female
Occupation
First Lady
Traits
Married
Mother
Name
Keckley, Elizabeth "Lizzie"
Gender
Female
Occupation
Seamstress
Traits
African American
Mother
Freed slave
Genre

Fiction
Historical


Topics

Female friendship
Lincoln, Abraham
Lincoln, Mary Todd
Dressmakers
First ladies
Loss
Assassinations
African American women
Freed slaves


Setting

Washington, D.C.