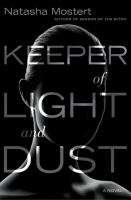 Keeper of Light and Dust
Annotation
A highly original supernatural thriller blending magic, science, martial arts, and the greatest desire of all: to live forever
Mia Lockheart has a secret. Her mother was a Keeper, as was her grandmother—women who were warriors, healers, and protectors. As Mia practices her craft among the boxers and martial artists of South London, and begins a romance with her childhood friend, the fighter Nick Duffy, she has no idea that a man who calls himself "Dragonfly" is watching from the shadows.
Adrian Ashton is a brilliant scientist, an expert in the breaking field of biophoton emissions from cells within the human body. He is also a skilled martial artist—and a modern-day vampire. With the aid of the enigmatic
Book of Life and Death
, written in the thirteenth century by the legendary Chinese physician Zhang Sanfeng, he preys on other martial artists and drains them of their chi—the vital energy that flows through the body.
Mia finds herself drawn to his dark genius, but when he targets Nick as his next victim, she is forced to choose between the two men. It becomes a fight to the death in which love is both the greatest weakness and the biggest prize.
Characters
| | |
| --- | --- |
| Name | Duffy, Nick |
| Gender | Male |
| Occupation | Kickboxer |
Name
Ashton, Adrian
Gender
Male
Occupation
Scientist
Traits
Vampire
Martial arts expert
Genre

Fiction
Suspense
Thriller
Occult


Topics

Family histories
Family secrets
Out-of-body experiences
Vampires
Scientists
Martial artists


Setting

South London, England
England