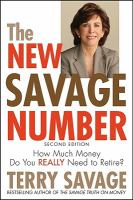 The New Savage Number
Annotation
Nationally known personal finance expert Terry Savage helps you answer the most important retirement questions
During a time when looking to the future is more important than ever, author Terry Savage offers street smart advice for the many soon-to-be retirees wondering how much longer they will have to work to make up for the losses in their retirement accounts. The New Savage Number provides the strategic guidance and hands-on techniques necessary to plan a successful, satisfying retirement.
Throughout the book, Savage helps you figure out how much money you need to retire-your savage number-and how to invest to reach that goal. Then, as retirement looms, she guides you through the process of planning withdrawals so the money lasts your entire lifetime. In between, Savage offers practical advice on everything from getting personal finances organized to insuring retirement plans against the disastrous need for long-term care. An informative, engaging book that future retirees of every age can utilize, The New Savage Number

Contains updated chapters reflect the current economy including changes to the mortgage market and stock market performance
Takes issues such as social security, long term insurance, and new investment risks into consideration
Offers guidance on continuing to earn income in retirement
Written with every retirement bound individual in mind, The New Savage Number, Second Edition provides you with the tools needed to rescue your retirement.
Author Notes
Terry Savage has financial expertise that comes from experience. She started her career as a stockbroker and became a founding member of-and the first woman trader on-the Chicago Board Options Exchange. Terry is a nationally known expert on personal finance and is a regular TV investment and financial markets commentator. She is the nationally syndicated Chicago Sun-Times personal finance columnist, contributor to TheStreet.com, and author of three bestselling books. Terry has won numerous awards, including the National Press Club Award, and received two Emmys for her television work.