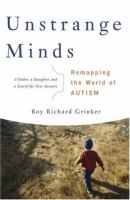 Unstrange Minds
Annotation
"This is the first book to show that the "epidemic" of autism is, paradoxically, a sign of how much the world has achieved in promoting autism awareness and education. The identification and treatment of autism has improved dramatically over the past few decades, and the increase in diagnoses is as much a product of culture as science. The shift in how we view autism, Grinker argues, is a part of broader societal shifts, such as changing attitudes about mental illness, the growth of child psychiatry and special education, and the rise of parent advocacy."--BOOK JACKET.
Awards
2007 Library Journal Best Books of the Year
Author Notes
Roy Richard Grinker is Professor of Anthropology and Director of the George Washington University Institute for Ethnographic Research.
Genre

NonFiction


Topics

Autism
Learning problems
Mental health
Mental health industry