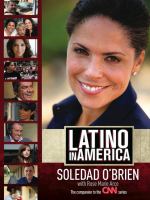 Latino in America
Annotation
The definitive tie-in to the CNN documentary series Latino in America, from former top CNN anchor and special correspondent Soledad O'Brien.

Following the smash-hit CNN documentary Black in America, Latino in America travels to small towns and big cities to illustrate how distinctly Latino cultures are becoming intricately woven into the broader American identity. As she reports the evolution of Latino America, Soledad O'Brien explores how tens of millions of Americans with roots in 21 different countries form a community called "Latino" and recalls her own upbringing and what she's learned about being a Latino in America.
Author Notes
Soledad O'Brien is a CNN anchor and special correspondent whose award-winning documentaries include Black in America and Eyewitness to Murder: The King Assassination. Her awards include the Emmy, Peabody, duPont, Gracie Allen, Clara Barton, Hispanic Heritage, and NAACP's President's Award, among many others. Also, she was named one of El Diario La Prensa's Mujeres Destacadas of 2009 and was one of People en Espanol's 50 mas bellas in 2004.
Genre

NonFiction
Sociology


Topics

Hispanics
Hispanic culture
Hispanic women
American history
Sociology