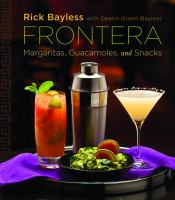 Frontera
Annotation
For years, fans have urged Rick Bayless to collect recipes for his prized margaritas, guacamoles, and snacks in one book. Now Rick shares 35 new and classic margaritas, including his version of the perfect margarita, the popular Topolo Margarita, and modern variations made with Mezcal. There s a margarita for every budget, taste, and season, including the Quintessential Strawberry Margarita. Rick also provides a guacamole recipe for each month of the year, such as a summer guacamole with grilled sweet corn and roasted jalapenos. As added bonuses, Rick suggests aqua fresca cocktails, with fresh fruit juices, and offers recipes for nut and vegetable snacks. Each recipe is written with the kind of exact and easy-to-follow directions that guarantee great results every time. Frontera: Margaritas, Guacamoles, and Snacks is a must-have for anyone who has eaten at Rick s restaurants or just can t resist the undeniable pleasure of a margarita and its perfect complements."
Author Notes
Rick Bayless is the author of eight cookbooks, including Mexican Everyday and Fiesta at Rick's. Rick won Bravo's Top Chef Masters competition and was named National Chef of the Year by the James Beard Foundation. The Mexican government has awarded Rick with the Order of the Aztec Eagle, the highest decoration given to foreigners. He lives in Chicago with his wife, Deann Groen Bayless.
Deann Groen Bayless has coauthored eight books with Rick and co-owns and co-operates Frontera Grill, Topolobampo, and XOCO with him. She is a former president of Women Chefs and Restaurateurs, a national organization that promotes the education and advancement of women in the restaurant industry.