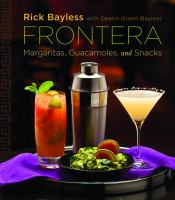 Frontera
Annotation
A brand-new collection from America's leading authority on Mexican cooking.
Author Notes
Rick Bayless is the author of eight cookbooks, including Mexican Everyday and Fiesta at Rick's. Rick won Bravo's Top Chef Masters competition and was named National Chef of the Year by the James Beard Foundation. The Mexican government has awarded Rick with the Order of the Aztec Eagle, the highest decoration given to foreigners. He lives in Chicago with his wife, Deann Groen Bayless.
Deann Groen Bayless has coauthored eight books with Rick and co-owns and co-operates Frontera Grill, Topolobampo, and XOCO with him. She is a former president of Women Chefs and Restaurateurs, a national organization that promotes the education and advancement of women in the restaurant industry.