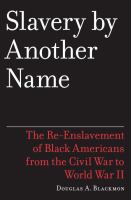 Slavery by Another Name
Annotation
"Under laws enacted specifically to intimidate blacks, tens of thousands of African Americans were arbitrarily arrested, hit with outrageous fines, and charged for the costs of their own arrests. With no means to pay these ostensible "debts," prisoners were sold as forced laborers to coal mines, lumber camps, brickyards, railroads, quarries, and farm plantations. Thousands of other African Americans were simply seized by southern landowners and compelled into years of involuntary servitude. Government officials leased falsely imprisoned blacks to small-town entrepreneurs, provincial farmers, and dozens of corporations - including U.S. Steel - looking for cheap and abundant labor. Armies of "free" black men labored without compensation, were repeatedly bought and sold, and were forced through beatings and physical torture to do the bidding of white masters for decades after the official abolition of American slavery." "Based on a vast record of original documents and personal narratives, Slavery by Another Name unearths the lost stories of slaves and their descendants who journeyed into freedom after the Emancipation Proclamation and then back into the shadow of involuntary servitude. It also reveals the stories of those who fought unsuccessfully against the re-emergence of human labor trafficking, the modern companies that profited most from neoslavery, and the system's final demise in the 1940s, partly due to fears of enemy propaganda about American racial abuse at the beginning of World War II. Slavery by Another Name is a moving, sobering account of a little-known crime against African Americans, and the insidious legacy of racism that reverberates today."--BOOK JACKET.
Awards
2008 American Book Award
2009 Pulitzer Prize
Author Notes
Douglas A. Blackmon is the Atlanta Bureau Chief of the Wall Street Journal.
Genre

NonFiction
Historical
Sociological


Topics

African Americans
African American experience
Black history
American history
Slavery
Forced labor
Convicts
Racism
Race relations
Discrimination
False imprisonment
Ethnic relations
Civil rights
Social conditions
Sociology
U.S. Civil War
World War II