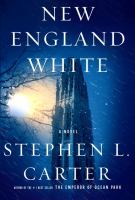 New England White
Annotation
"Stephen L. Carter returns to the New England university town of Elm Harbor, where a murder begins to crack the veneer that has hidden the racial complications of the town's past, the secrets of a prominent family, and the most hidden bastions of African-American political influence." "At the center: Lemaster Carlyle, the university president, and his wife, Julia Carlyle, a deputy dean at the divinity school - African Americans living in "the heart of whiteness." Lemaster is an old friend of the president of the United States. Julia was the murdered man's lover years ago. The meeting point of these connections forms the core of a mystery that deepens even as Julia closes in on the politically earth-shattering motive behind the murder."--BOOK JACKET.
Awards
2008 Black Caucus of the America Library Association Award
Author Notes
Stephen L. Carter is the William Nelson Cromwell Professor of Law at Yale University.
Characters
Name
Carlyle, Lemaster
Gender
Male
Occupation
University president
Traits
African American
Married
Father
Name
Carlyle, Julia
Gender
Female
Traits
African American
Married
Mother
Genre

Fiction
Domestic
Mystery
Suspense


Topics

African Americans
Husbands and wives
Murder
Race relations
Racism
Family secrets
Past loves
Professors


Setting

Elm Harbor University
College/University