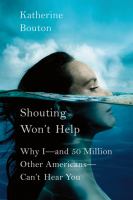 Say Again?
Annotation
Why more Americans are going deaf than ever before-and what we can do about itFor twenty-two years, Katherine Bouton was a senior editor at
The New York Times
. At daily editorial meetings, she had a secret that grew harder to keep every day-she couldn't hear what her colleagues were saying. She had gone profoundly deaf in her left ear; her right was getting worse. As she writes, she was "the kind of person who might have used an ear trumpet in the nineteenth century." Audiologists agree that we're experiencing a national epidemic of hearing impairment. At present, 50 million Americans suffer some degree of hearing loss-17 percent of the population. And hearing loss is not exclusively a product of growing old. The age of onset is often between nineteen and forty-four, and in many cases the cause is unknown.
Shouting Won
'
t Help
is a deftly written, deeply felt look at a widespread and misunderstood phenomenon. In the vein of Jerome Groopman and Atul Gawande, and using her experience as a guide, Bouton examines the problem personally, psychologically, and physiologically. She speaks with doctors, audiologists, neurobiologists, and a variety of people afflicted with midlife hearing loss, braiding their stories with her own to illuminate the startling effects of the condition. The result is a surprisingly engaging account of what it's like to live with an invisible disability-along with a robust prescription for our nation's increasing problem with deafness.
Genre

NonFiction
Health, Mind and Body
Psychological


Topics

Hearing
Deafness
Health
People with disabilities
Psychology