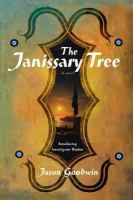 The Janissary Tree
Annotation
When Jason Goodwin explored the Ottoman Empire inLords of the Horizons,The New York Times Book Reviewhailed it as "a work of dazzling beauty…the rare coming together of historical scholarship…with luminous writing." Now he returns to Istanbul, with a delicious mystery--The Janissary Tree.

It is 1836. Europe is modernizing, and the Ottoman Empire must follow suit. But just before the Sultan announces sweeping changes, a wave of murders threatens the fragile balance of power in his court. Who is behind them? Only one intelligence agent can be trusted to find out: Yashim Lastname, a man both brilliant and near-invisible in this world. You see, Yashim is a eunuch.

He leads us into the palace's luxurious seraglios and Istanbul's teeming streets, and leans on the wisdom of a dyspeptic Polish ambassador, a transsexual dancer, and a Creole-born queen mother. And he introduces us to the Janissaries. For 400 years, they were the empire's elite soldiers, but they grew too powerful, and ten years ago, the Sultan had them crushed. Are the Janissaries staging a brutal comeback?

The Janissary Treeis the first in a series featuring the most enchanting detective since Precious Ramotswe ofThe No. 1 Ladies Detective Agency. Splendidly paced and illuminating, it belongs beside Caleb Carr'sThe Alienistand the historical thrillers of Arturo Perez-Reverte.

Awards
2007 Edgar Awards (Edgar Allan Poe Awards)
Characters
Name
Togalu, Yashim
Gender
Male
Occupation
Servant
Trait
Eunuch
Genre

Mystery
--Detective, Amateur
Fiction
Historical


Topics

Barbarism
Murder
Crime
Stolen gems
Thieves


Setting

Istanbul, Turkey
Turkey

Series

Yashim Togalu mystery

1
The Janissary tree
2
The Snake stone
3
The Bellini card