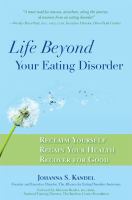 Life Beyond Your Eating Disorder
Annotation
There is life beyond your eating disorder—and you deserve to enjoy every minute of it.
Johanna S. Kandel, founder and executive director of The Alliance for Eating Disorders Awareness, struggled with her eating disorder for ten years before finally getting help. Now fully recovered, Kandel knows firsthand how difficult the healing process can be. Through her work with The Alliance—leading support groups, speaking nationwide and collaborating with professionals in the field—she's developed a set of practical tools to address the everyday challenges of recovery.
Author Notes
In 2000 Johanna S. Kandel founded The Alliance for Eating Disorders Awareness, a nonprofit organization dedicated to eating-disorder prevention that provides essential resources for those struggling with an eating disorder. An active member of The Eating Disorders Coalition and National Eating Disorders Association, Kandel speaks frequently nationwide, and has appeared on NBC Nightly News and The Today Show, among others. Visit her at www.EatingDisorderInfo.org.