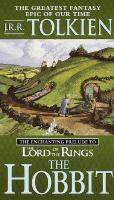 The Hobbit
Annotation
THE GREATEST FANTASY EPIC OF OUR TIME


Bilbo Baggins was a hobbit who wanted to be left alone in quiet comfort. But the wizard Gandalf came along with a band of homeless dwarves. Soon Bilbo was drawn into their quest, facing evil orcs, savage wolves, giant spiders, and worse unknown dangers. Finally, it was Bilbo–alone and unaided–who had to confront the great dragon Smaug, the terror of an entire countryside . . .
This stirring adventure fantasy begins the tale of the hobbits that was continued by J.R.R. Tolkien in his bestselling epicThe Lord of the Rings.

Awards
1997 Bilby (Books I Love Best Yearly) Award
Author Notes
John Ronald Reuel Tolkien was born on January 3, 1892, in Bloemfontein, South Africa. After serving in the First World War, he embarked upon a distinguished academic career and was recognized as one of the finest philologists in the world. He was a professor of Anglo-Saxon at Oxford, a fellow of Pembroke College, and a fellow of Merton College until his retirement in 1959. He is, however, beloved throughout the world as the creator of Middle-earth and author of such classic works as The Hobbit and The Lord of the Rings. He died on September 2, 1973, at the age of 81.
Characters
Name
Baggins, Bilbo
Gender
Male
Trait
Hobbit
Name
Gandalf
Gender
Male
Trait
Wizard
Genre

Fantasy
--Quest
--Dragons
Adventure
Classic
Fiction


Topics

Dragons
Dwarves
Journeys
Quests
Trolls
Treasure
Wizards
Heroism
Personal growth
Courage