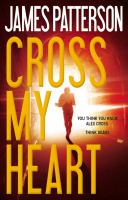 Cross My Heart
Annotation
James Patterson raises the stakes to their highest level, ever-when Alex Cross becomes the obsession of a genius of menace set on proving that
he
is the greatest mind in the history of crime.
Detective Alex Cross is a family man at heart--nothing matters more to him than his children, his grandmother, and his wife Bree. His love of his family is his anchor, and gives him the strength to confront evil in his work. One man knows this deeply, and uses Alex's strength as a weapon against him in the most unsettling and unexpected novel of James Patterson's career.
When the ones Cross loves are in danger, he will do anything to protect them. If he does anything to protect them, they will die.
CROSS MY HEART is the most powerful Alex Cross novel ever, propelled by the ever-ingenious mind of James Patterson, the world's #1 bestselling writer.
Characters
Name
Cross, Alex
Gender
Male
Occupations
Psychologist
Psychological profiler
Psychiatrist
Traits
African American
Remarried
Father
Genre

Fiction
Mystery
--Detective, Professional
Thriller
Psychological


Topics

Obsession
Psychopaths
Serial killers
Psychological profiling
Family relationships
Personal tragedy
Criminals
Adversaries


Setting

Washington, D.C.