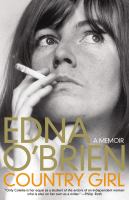 Country Girl
Annotation
The courageous and poetic narrative of a great fiction writers life, seen from the vantage point of eight decades.
In 1960, Edna OBrien published "The Country Girls," her first novel, which so scandalized the OBriens local parish that the book was burned by its priest. OBrien, married with two sons, was undeterred and has since created a body of work that bears comparison with the best writing of the twentieth century. "Country Girl "brings us face to face with a life of high drama and contemplation. It is a rich and heady accounting of the events, people, emotions, and landscape that imprint upon and enliven one lifetime.
Starting with OBriens birth in a grand but deteriorating house in Ireland, her story moves through convent school to elopement, divorce, single-motherhood, the wild parties of the 60s in London, and encounters with Hollywood giants, pop stars, and literary titans. There is love and unrequited love, and the glamour of trips to America as an acclaimed writer hosted by Jackie Onassis and Hillary Clinton. Brilliant and sensuous, "Country Girl "is a book we are fortunate that Edna OBrien decided to write.
Genre

NonFiction
Literary
Memoir


Topics

Writers
Irish women
Literary life
May-December romances
1960s culture
Love affairs
Singles lifestyle
Personal narratives


Setting

Ireland
England
New York City, New York