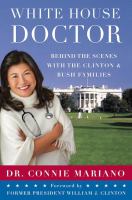 White House Doctor
Annotation
A riveting look into the personal lives of our presidents through the eyes of their White House doctor
Dr. Connie Mariano served 9 years at the White House under Presidents George H.W. Bush, William J. Clinton, and George W. Bush. She participated in world headline-making news events and traveled all over the world. She cared for visiting dignitaries and was charged with caring for all the members of the First Family. From flirting with King Juan Carlos of Spain to spending the night on the Queen of England's yacht, Dr. Mariano glimpsed a glittering and powerful celebrity that few eversee.
White House Doctor
is a fascinating look into what goes on behind closed doors at 1600 Pennsylvania Avenue.
Genre

NonFiction
Historical
Medical
Political
Memoir


Topics

Women in the military
Doctors
Physicians
U.S. presidents
Bush, George H. W.
Clinton, Bill
Bush, George W.
Patients
U.S. Navy
Filipino Americans
Women


Setting

Washington D.C.